COME TO ATHENS WITH US THIS MAY!!
Join us for the 2019 Vacation Bible School at First Christian Church on May 13th – 17th from 6:30 p.m. to 8:30 p.m. Parents and other siblings are welcome! Registration forms may be picked up at First Christian Church or simply click on the link below to print your form. Registration forms must be returned to First Christian Church by April 30th. If you have any questions, please contact Laura at 620-654-6177.
Click the link above to print a copy of the 2019 Vacation Bible School Registration Form. Return the form to First Christian Church or email to fcco@ruraltel.net by the April 30th deadline!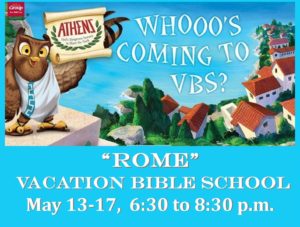 The 2016 Vacation Bible School was a great success! Thanks to all who volunteered your time to help out!